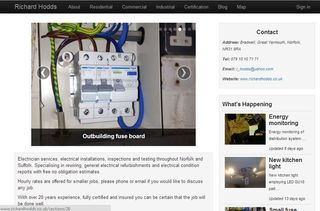 Site In A Box
Site In A Box was developed as a Cloud service in the early days of smart phones as the alternatives (e.g. WordPress, Wix) where poor in support for handling different screen sizes (responsive), generating menus, supporting SEO fields etc. The system enables Websites to be quickly created with text, pictures, videos, maps and then have the site work correctly (e.g. resize, handle layout using bootstrap) on a PC, Mac, tablet or smartphone. This can be achieved without the need for coding or managing WEB servers. The service enables user to setup their own WEB site with basic content, pictures and a location map in a few minutes. The WEB site content can then be delivered in an optimised format for either PCs, tablets or Smartphone such as the Iphone.
There are now many other great web building solutions (for which you'll pay a monthly fee) such as WordPress, Squarespace, Wix. Many of the concepts and code from Site In A Box are used in other systems developed (e.g. security, document handling, image processing).
Users can readily update the site themselves from a Smartphone or a Desktop PC. The site is designed to optimise images and layout to minimise the data downloaded to a Smartphone. The website user experience is fast and easy to use. As new features are developed all Websites can make use of it through minor configuration they can do themselves.
This WEB site, www.bitefirst.com , is produced and delivered via Site In A Box. Other sites include www.kikisclinic.com and www.richardhodds.co.uk.